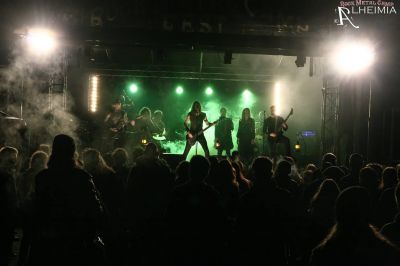 ---
Thanks to RockMetalCamp!
The first performance of a show we've been preparing for a long time!
06-04-2016 - Posted by Eva
---
This Friday, 20th of May was a wonderful day for us. The audience was there, and the organizers of the
RockMetalCamp Fest
were, as usual, perfect.
It was also a first experience for us, as we were not alone on stage. Several musicians and singers accompanied us during the show to perform their own parts of the songs, which play a major role on our albums.
We'd like to thank:
-Fifi and his team for their warm welcome and for letting this project come true
-Armel Rude for his patience and his astonishing live sound mixing
-Fraude for his amazing stage lighting
-Our guests who made this project possible (Arnaud Rossin – acoustic guitar and flute, Dgé – accordion and singing, Marie-b Jourdain – singing and guitar, Narbé Narbichou and Salim Menad – percussions)
-Fanette for creating our three cloaks, and for her precious advice regarding the performance
-
Alheimia
for her splendid pictures
-
Time Warp Shop
for lending their beautiful leather accessory
Last but not least, thanks to all of you for coming!
We're editing videos shot during the show and will put them online soon.
---