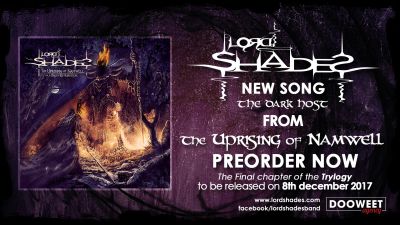 ---
Pré-vente + The Dark Host
Pour l'occasion du lancement de la pré-vente, Lord Shades dévoile "The Dark Host", titre issu du nouvel album
13-11-2017 - Postée par Alex
---
Pour vous faire patienter à un mois de la sortie de l'album "
The Uprising of Namwell
",
Lord Shades
vous fait découvrir un titre en exclusif : "
The Dark Host
" !
Vous pouvez d'ors et déjà
pré-commander l'album
dans notre espace boutique qui, pour rappel, sortira le 8 décembre prochain.
Pour l'occasion, le site internet à été refait à neuf et aux couleurs de l'album.
Bonne écoute !!!
---