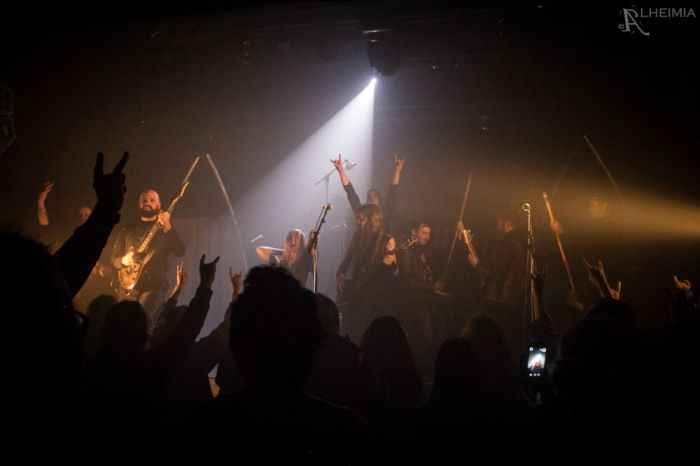 ---
Lord Shades - Entropia Invictus - Radium Valley... Thank You !!!
This Saturday, January 13, the sky of Châteauroux has darkened, taking on threatening colors. Smells of powder and iron heated white hovered in the air... The battle of 9Cube was finally declared...
01-19-2018 - Posted by Alex
---
More than 200 Warriors took part in the event, none of them wishing to miss the fight that saw this band of "bewildered" pals treading the boards.

Lord Shades Management would like to thank Radium Valley for bewitching us with his apocalyptic and scary metal gothic, hypnotizing the crowd with their frankly well-crafted compositions.
But also Entropia Invictus with their powerful and fast black metal sympho whose fans of Septic Flesh could not miss a crumb. They managed to sack the 9Cube without any difficulty, proof that these guys are indeed worthy to fight in the midst of the most ferocious armies ...

We also wanted to thank Natacha and Marie-B who accompaniedLord Shades on their set. Their beautiful voices enriched the performance, making the songs and the concert much more magical ...
Entropia Invictus on "Old Fears" was just as intense and great, their singer Jerome gave us an anthology duet with Alex! strong>

Many thanks to Olive strong> and Seb respectively to sound and light, their endless patience must be emphasized and their outstanding work applauded!

People in the shadows should not be forgotten. The many volunteers strong> who have worked to make the evening a success and to ensure the public is properly welcomed. For them a deep thank you!

It is now time for Lord Shades to take the road of concerts during this year 2018/2019. The group will try to play wherever they can.
Lord Shades will give his best on each of his dates as always!

Thank you for everything and thank you all !!!
---